Changing your car? Need help?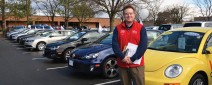 Are you:
• Thinking about changing your car?
• Unsure about what is the best car for you on your budget?
• Wanting to buy at the best possible price?
• Worried about the hassle of dealing with car sales people in the showroom?
• Not sure whether you're getting a good deal or not?
• Don't know how much your current car is worth?
• Confused by all the different ways to finance the purchase?
• Want an "expert" to guide you through the process?
If so, I would like to introduce you to UK Prestige Car Brokers who describe themselves as follows:
Here at UK Prestige Car Brokers we understand that for many people, especially those who are elderly or who have little knowledge of how the motor trade works, changing their car can be a stressful experience. Often, a car can represent the second largest purchase after your home, so it is important that you buy the right car for your needs and requirements at the best possible price.
We can ensure that the car buying process is as stress-free as possible. For customers in the Yorkshire region, we can visit you in your home, if you wish, to start the process. You will benefit from nearly 40 years experience in the trade and our service includes:
• Helping you decide which car meets your needs and requirements
• Understanding your budget and recommending the right new or pre-owned vehicle for you
• Arranging test drives to help you decide and accompanying you to the dealer, if you so wish
• Appraising and valuing your existing vehicle (where applicable) and recommending the best method of disposal
• Negotiating the best deal with the car dealer on your behalf – we guarantee that the price you pay for your new or used car will be the lowest available in the area at the time
• Helping you decide how best to finance your purchase
• Reviewing all the paperwork to make sure the dealer has not made a mistake (they do!)
• Being present at the handover of your new car to make sure everything goes smoothly
As we will be paid a referral fee by the dealer that ultimately supplies your new or pre-owned car, there is no charge to you, the customer, for our services.
Visit UK Prestige Car Brokers or contact Colin Smith direct – 01422 230689; mobile 07887 508520 or mailto:colin@ukprestigecarbrokers.co.uk to find out how you can have a stress-free car-buying experience.
For more information on Clive's services, please complete the information form below and Clive will contact you to discuss your questions.